Airway Pressures
Mikro-Cath Pressure Catheters use Millar's proven high-fidelity pressure sensor technology to record precise measurements within the airway to advance discovery in respiratory physiology. Signals are unaffected by patient position or movement during respiratory cycles of breathing events such as obstructive sleep apnea.
High-fidelity Catheter for Airway & Esophageal Pressure Measurements
The Mikro-Cath pressure catheter enables sleep disorder research specialists, pulmonologists and otolaryngologists to measure high-fidelity airway pressures in patients. The high-fidelity airway and esophageal pressure data supports understanding of respiratory physiology during obstructive sleep apnea and other apneic event studies.
With the Mikro-Cath, clinicians can obtain more comprehensive and accurate measurements for:
Airway pressure studies/measurements
Obstructive sleep apnea studies
Sleep disorder studies
Airway pressure measurements support obstructive sleep apnea diagnosis through direct and reliable pressure readings in comparison to fluid-filled pressure measurements.
Obstructive Sleep Apnea
Obstructive Sleep Apnea (OSA) is a chronic condition characterized by recurrent episodes of partial to complete pharyngeal collapse which induces apnea and hypopnea during sleep. Initially, the consequences of OSA included sleepiness and daytime fatigue. Upon further investigation more critical outcomes, such as cardiovascular disease, stroke, and decreased life expectancy1,2 were linked to OSA. While this condition is underdiagnosed in adults, studies have shown a 2-7% prevalence in the population, with risk factors including obesity, age, the male sex, family history, as well as ethnicity3.
Even though OSA was characterized in the 1970s5, there is still no reliable model to predict successful treatments for patients6. Current treatment options for OSA include continuous positive airway pressure (CPAP), oral appliances, and surgery. Determining the best treatment option for patients is a challenge for both researchers and clinicians due to anatomical factors that predispose the patient to pharyngeal collapse, combined with their neuromuscular response1,6. While recent studies have shown an improvement in treatment efficacy using anatomical phenotype models based on airway site collapse7,8 more research is necessary to define these biomechanical models.
In order to study the biomechanics of pharyngeal collapse, precise airway pressure measurements are needed. The Millar Mikro-Cath diagnostic pressure catheter provides true pressure readings and the ability to detect the slightest changes in pressure. The Mikro-Cath is FDA approved to record measurement within the patient for up to 24 hours, and with a sensor that is only 3.5F (1.17 mm), the Mikro-Cath creates less discomfort or disturbance for the patient while the catheter is introduced and recording the upper respiratory tract.
1. Young T, Peppard PE, Gottlieb DJ. Epidemiology of Obstructive Sleep Apnea A Population Health Perspective. Am J Respir Crit Care Med 2001; 165:1217-1239.
2. Young T, Peppard PE. Epidemiology of obstructive sleep apnea. In: McNicholas WT, Phillipson EA, editors. Breathing disorders in sleep. London: W. B. Saunders; 2002. p. 31–43.
3. Kripke DF, Ancoli-Isreal S, Klauber MR, Wingard DL, Mason WJ, Mullaney DL. Prevalence of Sleep-Disordered Breathing in Ages 40-64 Years: A Population-Based Survey. Sleep 1997;20(1):65-76.
5. Guilleminault C, Tilkian A, Dement WC. The sleep apnea syndromes. Annu Rev Med 1976;27:465–484.
6. Le T, Moghaddam MG, Woodson BT, Garcia GJ. Airflow limitation in a collapsible model of the human pharynx: physical mechanisms studied with fluid‐structure interaction simulations and experiments. Physiol Rep. 2019; 7(10): e14099.
7. Vanderveken, OM, Maurer TJ, Hohenhorst W, Hamans E, Lin HS, Vroegop AV, et al. Evaluation of drug-induced sleep endoscopy as a patient selection tool for implanted upper airway stimulation for obstructive sleep apnea. J. Clin. Sleep Med. 2013;9:433–438.
8. Strollo PJ, Soose RJ, Maurer JT, DeVries N, Cornelius J, Froymovich O, et al. Upper-airway stimulation for obstructive sleep apnea. N. Engl. J. Med. 2014;370:139–149.
References to Mikro-Cath Airway Pressure Studies

Ron Oliven, Guy Cohen, Yaniv Dotan, Mostafa Somri, Alan R. Schwartz, Arie Oliven, "Alteration in upper airway dilator muscle co-activation during sleep: comparison of patients with 4 OSA and healthy subjects.," American Physiological Society Journal, vol. 2017, 28 pages, 2017. doi:10.1152/japplphysiol.01067.2016
Chowdhuri, Susmita, et al. "Effect of Age on Long-Term Facilitation and Chemosensitivity during NREM Sleep." Journal of Applied Physiology, vol. 119, no. 10, 2015, pp. 1088–1096., doi:10.1152/japplphysiol.00030.2015.
Boudewyns, A.n., et al. "Site of Upper Airway Obstruction in Obstructive Apnoea and Influence of Sleep Stage." European Respiratory Journal, vol. 10, no. 11, Jan. 1997, pp. 2566–2572., doi:10.1183/09031936.97.10112566.
Sands, Scott A, et al. "Quantifying the Arousal Threshold Using Polysomnography in Obstructive Sleep Apnea." Sleep, Sept. 2017, doi:10.1093/sleep/zsx183.
Sankari, Abdulghani, et al. "Characteristics and Consequences of Non-Apneic Respiratory Events During Sleep." Sleep, Sept. 2016, doi:10.1093/sleep/zsw024.
El-Chami, Mohamad, et al. "Time of Day Affects the Frequency and Duration of Breathing Events and the Critical Closing Pressure during NREM Sleep in Participants with Sleep Apnea." Journal of Applied Physiology, vol. 119, no. 6, 2015, pp. 617–626., doi:10.1152/japplphysiol.00346.2015.
Wellman, A., et al. "Test of the Starling Resistor Model in the Human Upper Airway during Sleep." Journal of Applied Physiology, vol. 117, no. 12, 2014, pp. 1478–1485., doi:10.1152/japplphysiol.00259.2014.
Mikro-Cath Targets Precise Accuracy
The Mikro-Cath Pressure Catheter delivers repeatable, exact data for reliable insight into cardiovascular, respiratory, and intracompartmental pressure cases. The solid-state catheter is unaffected by motion artifacts or body position, providing data you can count on when making critical clinical decisions. The Mikro-Cath also provides expert evaluation for benchtop studies when evaluating efficacy of medical device performance.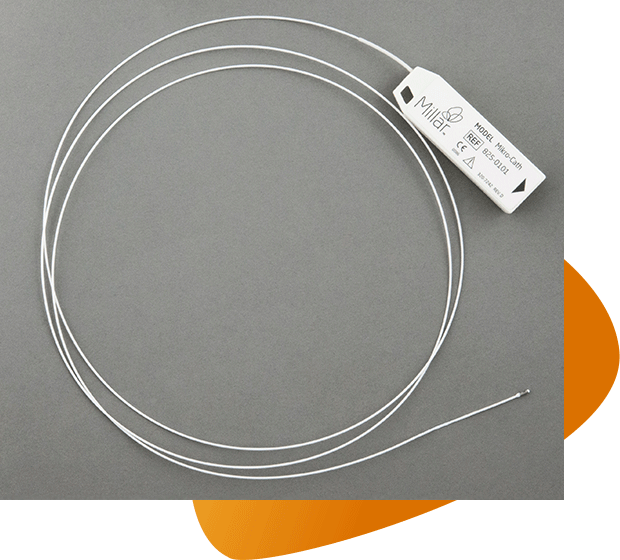 Cutsheet


More About Airway Pressures

Download the Mikro-Cath Airway Pressure Catheter information sheet to learn more about Millar's market-leading solution for obtaining the most accurate and comprehensive pressure measurements.
Knowledge Center
Explore Millar's online Knowledge Center where you will find our latest product support and OEM integration resources, including White Papers, Application Notes, Webinars, Partner Success Stories, Manuals and Guides, Videos, Software Downloads and Demos, Training Materials and much more.
Contact Us
Millar has been collaborating with clinicians around the world for years to provide the breakthrough technology that advances medical innovation. Contact us today to see how we can help you make a difference. We welcome your questions and ideas. US Headquarters T: +1 832.667.7000. Toll Free: 800.669.2343 (US Only)