Integrated Wireless Pressure Technology
Millar's wireless pressure platform has been designed to integrate with existing medical technology, vastly improving the quality of patient care. Medical devices with wireless connectivity can secure reliable, real-time pressure readings directly at the source fast and efficiently.
Integration Process
Sensor Selection
Millar incorporates digital Bluetooth technology in its wireless pressure platform to enable reliable communications with no interference and very low noise. For wireless applications, Millar uses proven MEMS piezo-resistive sensors that can withstand implantable environments for a short duration and measure pressure at the source.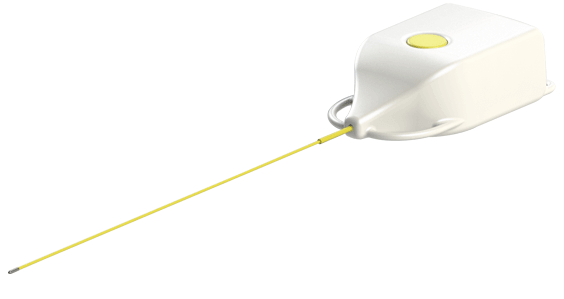 Optimized Integration
Over the years, Millar has perfected integration methods with these sensors to greatly reduce manufacturing-related drift. Our patented transmitter-receiver combo utilizes existing capital equipment, and our out-of-the-box system configuration supports one-to-one automatic communication for easy, immediate use.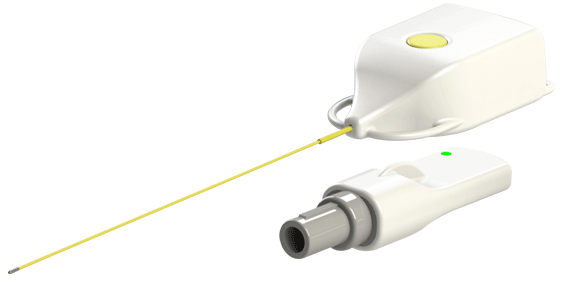 Potential Applications
Potential integrated wireless monitoring applications include cardiovascular, critical care, respiratory, neurocritical care, emergency care, compartment pressure, and urodynamics.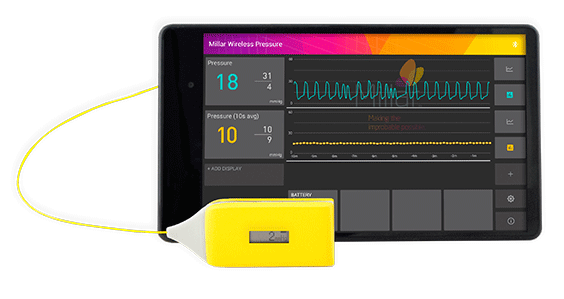 Wireless Pressure Technology Works
Millar's wireless pressure prototypes can be customized in catheter size, length, and transmitter shape and size to accommodate the required application. To measure pressure, the catheter tip is inserted inside the body at the desired pressure reading location and the transmitter is secured to the patient. Upon activation, the transmitter connects wirelessly to the Bluetooth receiver. Based on the pressure reading required, the transmitter can be manufactured with a digital readout.
Request a Developer Kit
Want to test Millar's Wireless Pressure Platform with a medical device and get an inside look at our capabilities? Millar offers a fully customizable Wireless Pressure Platform Developer Kit to test integration with your existing medical devices and technology.
Meet The Team
Learn about Millar's OEM solutions directly from our OEM team. Find out what inspires them and what value they can bring to your project.
50 Years of Millar Innovation
In 2010, Millar launches its Mikro-Cath Pressure Catheter.
Contact Millar
Contact Millar OEM Solutions today to collaborate on your next project. We welcome your questions and ideas on OEM Solutions implementation. US Headquarters T: +1 832.667.7000 Toll Free: 800.669.2343 (US Only)