TiSense
As market leaders in the acute pressure measurement space, Millar is Making Medical Devices Smarter Long-Term by offering the newest technology on the market for chronic pressure readings: TiSense.

This novel technology platform is designed for implantation periods of greater than 5 years. Made of titanium, encapsulated, and hermetically sealed, TiSense is revolutionizing the industry.
About TiSense
From an innovation perspective, we offer something greater than our standard catheter-based offerings, which currently range from 7-29 days of use. This module is ISO 10993 compliant and is extremely versatile - tailored to each customer's unique use case or application.
Please note: This product is still undergoing R&D development.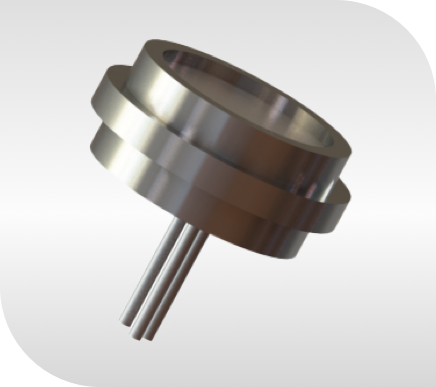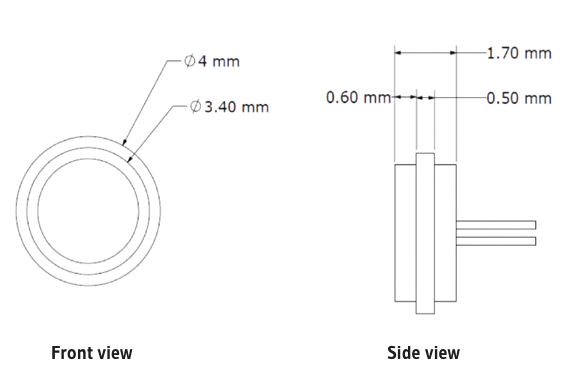 Product Features
Module Configuration and Technical Information
TiSense is a MEMS piezo-resistive sensor module filled with silicone oil, communicating pressure from a thin membrane in front. All body contacting portions are constructed from titanium, the pins from the feedthrough are platinum-iridium. TiSense measuring system respects internal vacuum pressures.
Note: Care should be taken when soldering wires on pins to prevent heat damage. It is recommended to use a flex PCB to terminate the pins.
TiSense Applications
TiSense can be used in various medical contexts like chronic heart failure and hydrocephalus, allowing for accurate, dynamic pressure measurements.
Example Clinical Applications
Chronic Heart Failure

1

Chronic Heart Failure

Suited for exposure to millions of pressure cycles, TiSense enables devices that can be placed at various points in the heart, offering readily available pressure data.
Hydrocephalus

2

Hydrocephalus

Paired with a shunt system, TiSense aids in managing CSF pressure to a desired value, enabling continuous measurement of intracranial pressure.
Intra Ocular Pressure

3

Intra Ocular Pressure

With a minimal height profile, TiSense is suited for long-term implantation in the inner eye, interfacing with a hermetic implant that houses signal conditioning electronics.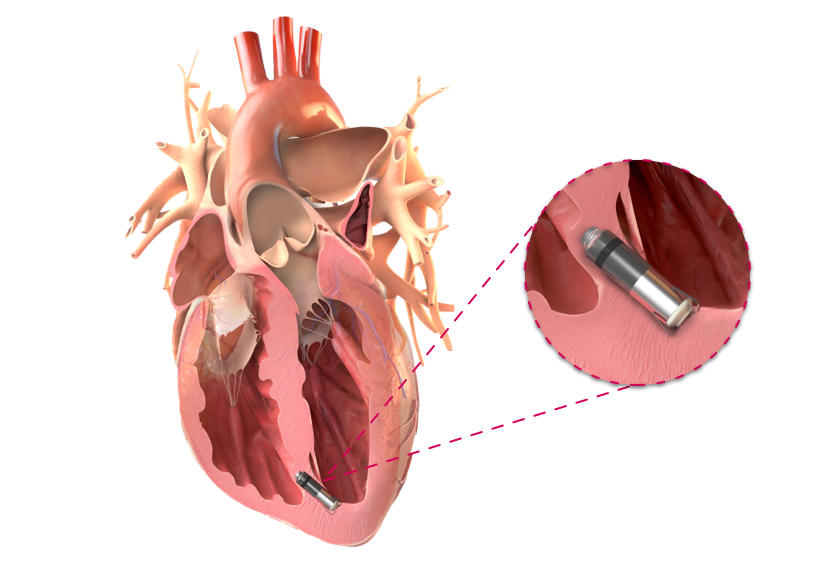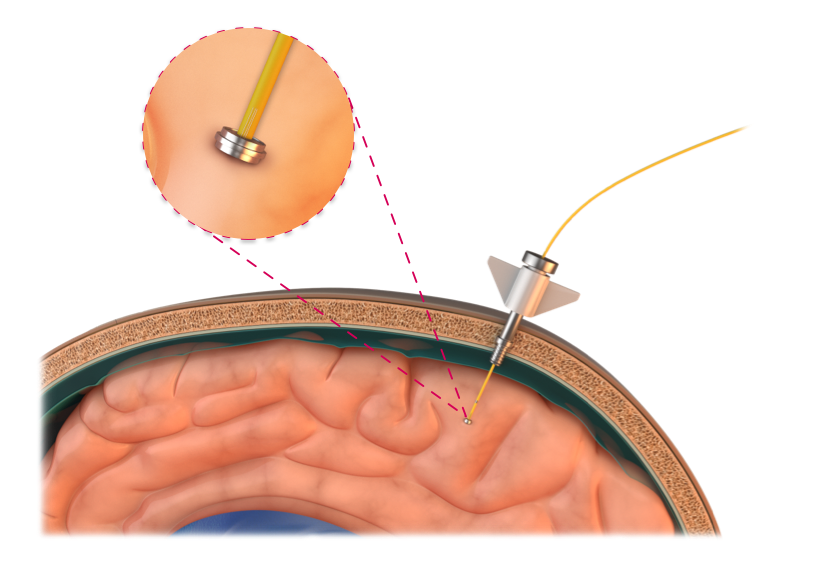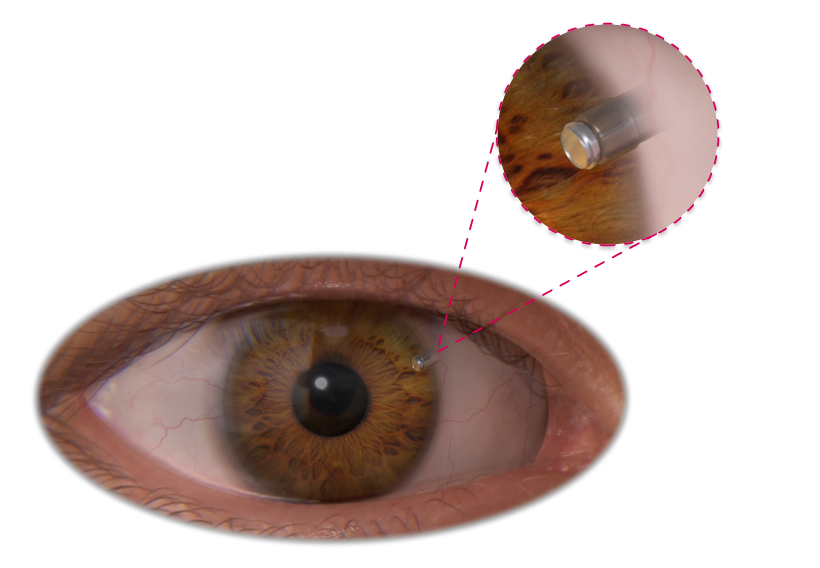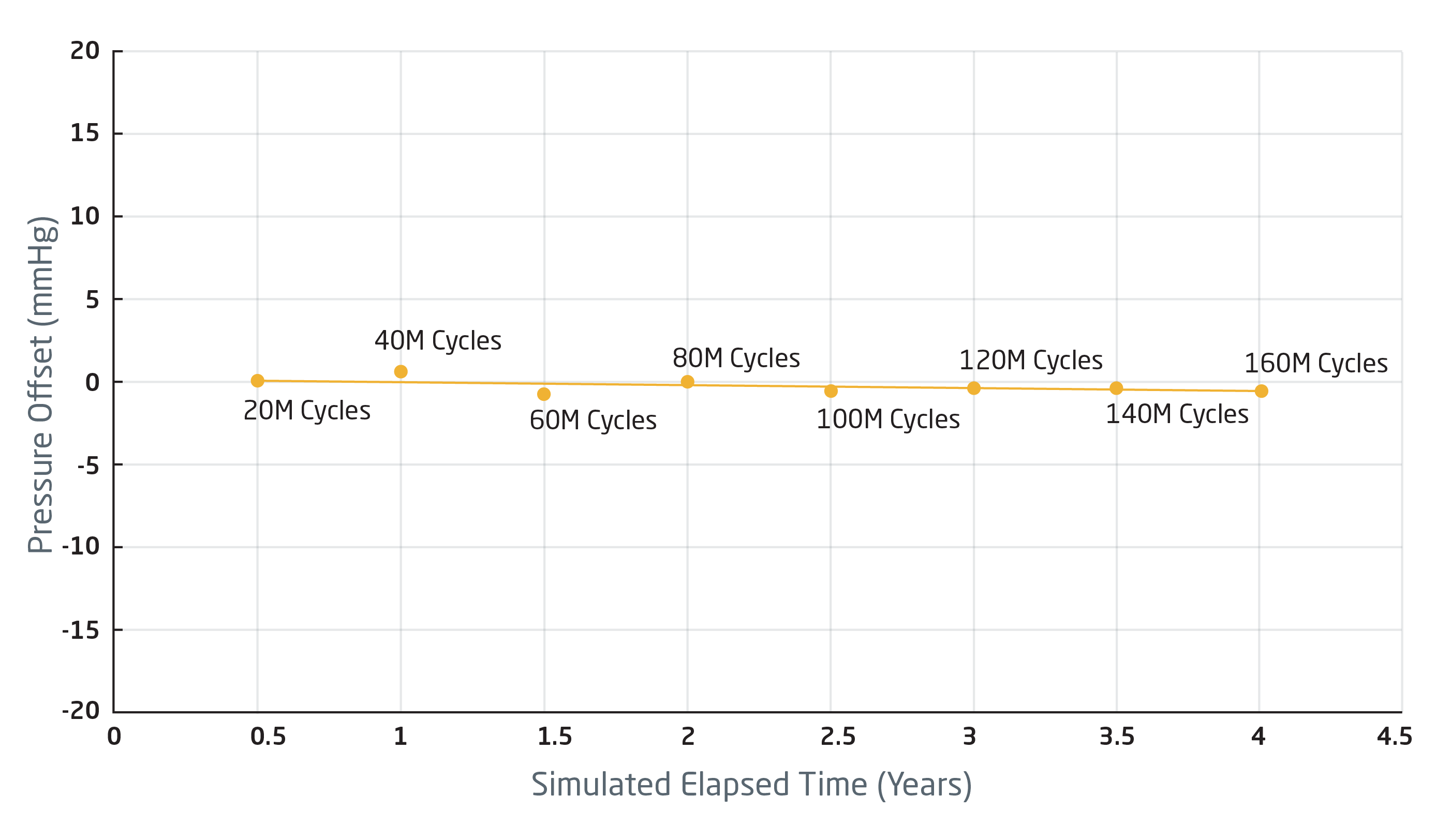 TiSense Drift Over Simulated Time of 4 years (160 Million Cycles. Click to view Larger version
Drift Testing
The long-term accuracy and stability of TiSense's output over time has been assessed and quantified by an ongoing reliability drift test. TiSense is subjected to 80/120 mmHg sinusoidal-wave pressure cycles inside an environment filled with water at 37 °C for simulating conditions within the human body. After every 20 million cycles (approximately one week) the pulsatile tester is stopped for collecting the drift data. The graph represents the drift over 13 weeks where TiSense was subjected to over 160 million pressure cycles which is equivalent to 4 years of life in the human body.
Specifications
Parameter
Min
Typical
Max
Units
Notes
Sensor Operation Specification
Operational Pressure Range
510
1010
mmHga

Range IS +/-250 mmHg centered around atmospheric pressure (760 mmHGA). There can be +/-15 mmHg variation in atmospheric pressure at the time ot characterization.

Accuracy Error
-0.5
0.5
% (of applied pressure)
Includes errors from non-linearity over a range of 500 mmHg applied pressure.
Warm-up Time
1
Hour
Final implanted temperature range.
Electrical Specifications
Resistance
2.2
3.2
4.2
KΩ
Resistance of each sensing element as measured from C-A pin or C-P pin
Excitation Range

1

6

Volts DC

Sensitivity of Sensor

10

μV signal per volt of excitation per mmHg incident pressure. When completed with equivalent 3K resistors into a full bridge.

Mechanical Specifications
Height of Module
1.57
1.7
1.83
mm
Pin length not included
Diameter of Module

3.87

4

4.13

mm

Material
Titanium Grade 2
Number of Pins
3
Environmental Specifications
Operational Temperature Range
35
37
39
deg.C
Storage Temperature Range
20
40
deg.C
Storage range until further testing is performed.
CutSHeet


TiSense

Discover more about TiSense's impactful role in medical diagnosis and treatment.
Contact Millar
Learn more about our groundbreaking TiSense by reaching out to a member of our sales team.