Cardiovascular Pressures
Millar's Mikro-Cath Pressure Catheter delivers true hemodynamic data for deeper insight into cardiovascular function, helping guide diagnostic decisions when precise measurements count. Mikro-Cath data from the source provides reliable signals, including accurate dP/dt for advanced clinical applications, such as exercise studies, drug therapy evaluation, and heart failure cases.
Mikro-Cath™ Pressure Catheters
Mikro-Cath™ Pressure Catheters use Millar's patented pressure sensor technology to record precise measurements of cardiovascular function, unaffected by motion artifacts or body position. This high-fidelity pressure data helps to identify potential cardiovascular conditions and make in-depth assessments in real time.
Clinicians can obtain more comprehensive and accurate measurements for:
Left Ventricular Pressures (LVP)
Right Ventricular Pressures (RVP)
Mean Arterial Pressures (MAP)
Valve Gradients
Radial Artery Pressures
Peripheral Lesion Pressure Gradients
Mikro-Cath Catheter Versus Traditional Fluid-Filled Catheters
With an appropriately sized guide catheter or introducer, the Mikro-Cath can be easily integrated into any cath lab's hemodynamic system via standard interface cables, offering an immediate upgrade to the fluid-filled catheter.
When compared to fluid-filled catheters, the Mikro-Cath Pressure Catheter provides real-time, accurate blood pressure data. The Mikro-Tip® sensor measures blood pressure at the source, providing a true representation of the blood pressure waveform, and eliminates many of the common shortfalls of fluid-filled catheters, including signal variances from patient height or position changes.
| MIKRO-CATH | FLUID-FILLED |
| --- | --- |
| Accurate dP/dt | Unreliable dP/dt |
| True pressure signal | Augmentation of signal - overshoot, resonance |
| No time delay | Time delay |
| Free from motion artifacts | Motion artifacts - catheter whip |
| True pressure readings at any height in fluid | Gravitational effects on zero |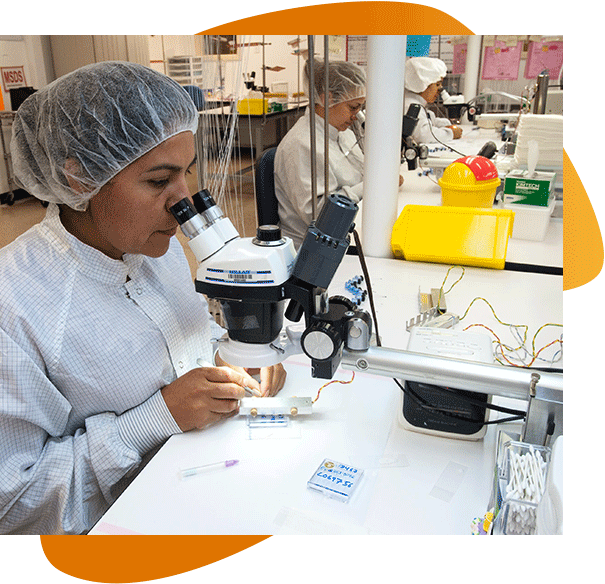 Mikro-Cath Targets Precise Accuracy
The Mikro-Cath Pressure Catheter delivers repeatable, exact data for reliable insight into cardiovascular, respiratory, and intracompartmental pressure cases. The solid-state catheter is unaffected by motion artifacts or body position, providing data you can count on when making critical clinical decisions. The Mikro-Cath also provides expert evaluation for benchtop studies when evaluating efficacy of medical device performance.
Brochure


More About Cardiovascular Pressures

Download the Mikro-Cath Pressure Catheter information sheet to learn more about Millar's market-leading solution for obtaining the most accurate and comprehensive cardiovascular pressure measurements.
Knowledge Center
Explore Millar's online Knowledge Center where you will find our latest product support and OEM integration resources, including White Papers, Application Notes, Webinars, Partner Success Stories, Manuals and Guides, Videos, Software Downloads and Demos, Training Materials and much more.
Contact Us
Millar has been collaborating with clinicians around the world for years to provide the breakthrough technology that advances medical innovation. Contact us today to see how we can help you make a difference. We welcome your questions and ideas. US Headquarters T: +1 832.667.7000. Toll Free: 800.669.2343 (US Only)