PVR-1030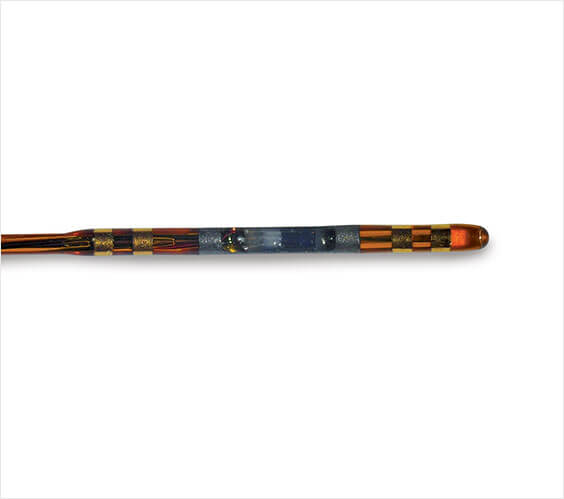 The PVR-1030 mouse pressure-volume catheter provides optimal data for simultaneously measuring left ventricular pressure and volume at the source. The high frequency response enhances your ability to collect the highest quality data possible, streamlining your path to publication.
Only Millar can offer the world's smallest 1F pressure-volume catheter. The small catheter diameter minimizes the obstruction of blood flow in the vessel and allows for improved surgical access to the right ventricle. This enables access to smaller, younger mice for earlier detection of disease or treatment.
Cardiovascular researchers have successfully used the 1F pressure-volume catheter for improved catheterization in aortic banding models, where minimizing catheter size is key to successful data collection.
The PVR-1030 provides a 3.25 cm usable catheter length and a 3.0 mm electrode spacing for optimized ventricular volume measurement in smaller mice and right ventricle measurements. For standard-sized animals, consider the PVR-1045 pressure-volume catheter.
For complete hemodynamic analysis, use the PVR-1030 mouse pressure-volume catheter with the MPVS Ultra® or MPVS Ultra® Single Segment system, a modular PowerLab data acquisition system with LabChart analysis software.
Product Specifications
Model

PVR-1030

Product Number

842-0003

Subject

Mouse

Length

3.25 cm

Tip F Size

1F

Body F Size

0.8F

Pressure Connector

Low Profile

Material

Polyimide

Tip

Straight

Number of Sensors

1

Number of Electrodes

4

Electrode Spacing

3 mm
ADInstruments and Millar
Millar Mikro-Tip® Pressure and PV Loop catheters systems are available exclusively from ADInstruments, our strategic partner for over 15 years, because we share the same goals of providing quality products backed by world-class technical support and service.