Over the last 50 years, Millar has exhibited at some of the top life science, clinical, and OEM tradeshows in the world! In fact, our founder, Huntly Millar, loved going to trade shows and working in the Millar booth. It was an opportunity for him to explain to customers why they would benefit from using Millar catheters. He truly believed in the power of networking and meeting new people and always brought something new to demonstrate. It might be a new product, a conceptual idea, a way to demonstrate the effectiveness of Millar products, or just something fun he built and wanted to show off. Inevitably, a series of colleagues and old friends -- students, med students, cardiologists, administrators, and business owners -- stopped by to visit and catch up with the latest at Millar.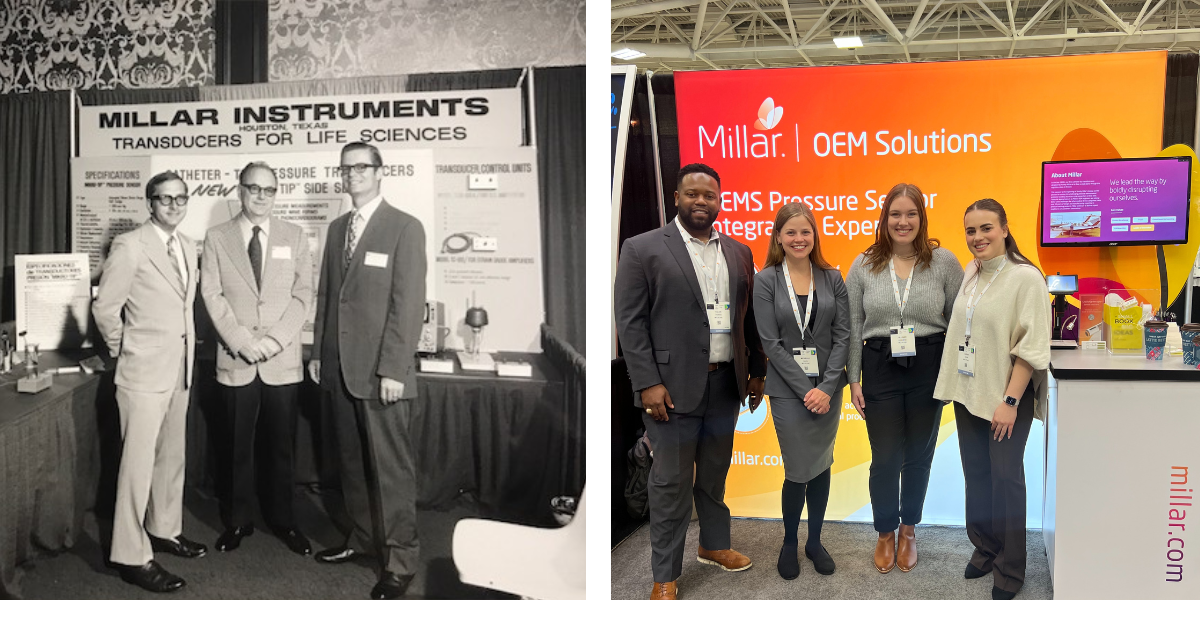 Today, Millar still relies on the benefits of trade shows to meet with OEM partners around the world and see how we can make their medical devices smarter by integrating our MEMS sensors. Although the strategy of tradeshows has evolved over time with the introductions of the internet and social media – Millar has always followed the same three rules:
Don't Skip The Booth Crawl
While you may feel pressured to stay in the booth to talk with potential customers, it's always just as valuable to walk the floor. Doing the aisle-by-aisle walk, you never know who you will meet or what business you might be able to discuss vs sitting in your booth and waiting for someone to come by.
Channel Your Inner Extrovert
Even if you are an introvert, make use of the space you are in, surrounded by industry experts. Waiting in those long food truck lines during lunch? Chat with the people in front of you! Sitting solo between booth duty? Stike up a conversation with the table and gather some insights from them. Again, you never know who a potential customer might be.

Always Carry a Prop
If you have a technical elevator pitch – make sure you always have an example of the product. At Millar, we always carry around our Mikro-Cath. Tim Daugherty, Millar CEO says, "A picture is worth a thousand words, but a physical representation of the company is even more valuable". Having the ability to be in person with industry experts only happens a few times a year. Make sure to take advantage! One of our strengths is how small our products are while still having highly accurate data. Engineers like to be able to physically hold and touch the devices.
If you're headed to MD&M Anaheim or MD&M Minneapolis and would like to discuss our pressure sensor solutions – stop by our booth or send us a note!