Millar OEM Solutions partners with global leaders in technology, manufacturing and healthcare to turn breakthrough technologies into life-saving innovations. Our high-performance MEMS pressure sensors seamlessly integrate with clinical and life sciences advancements to improve patient outcomes and shape the future of medicine. During the month of August, we aim to shine a spotlight on Neurosurgery Awareness and how Millar and Codman, now part of Integra LifeSciences, have been working together to revolutionize Traumatic Brain Injury (TBI) treatments. See below to learn 5 interesting facts about Traumatic Brain Injuries (TBI).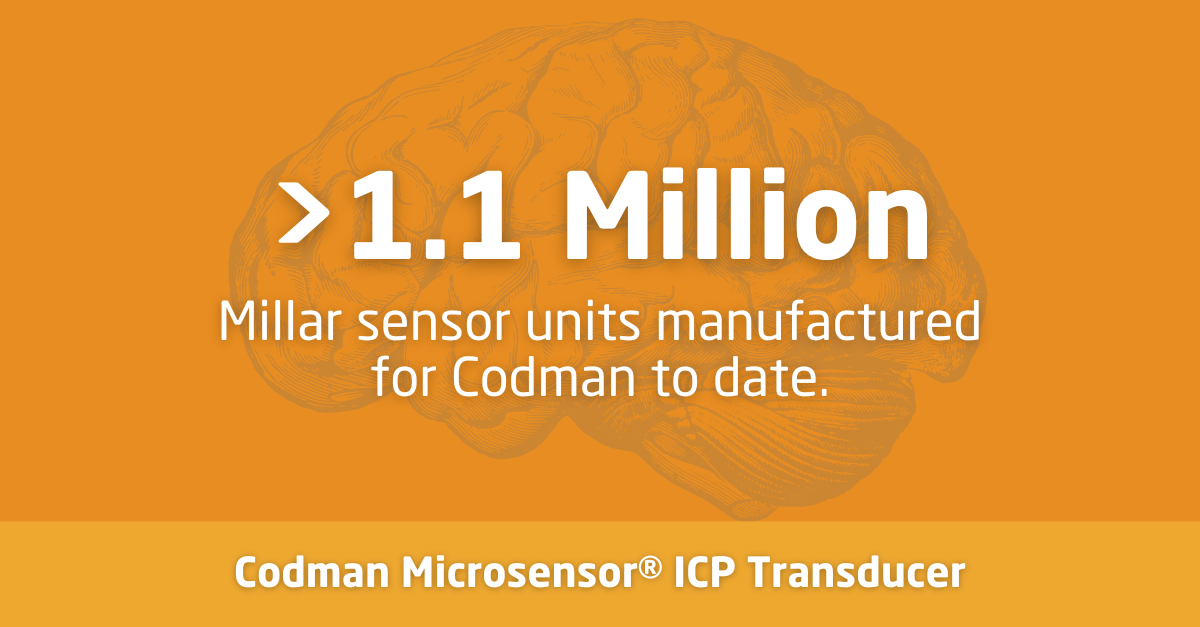 What is Traumatic Brain Injury (TBI)? 1,2
A traumatic brain injury (TBI) is a head injury that results in the disruption of normal brain function. It may be caused by a bump, blow, jolt, or by a penetrating injury to the head. The 3 main types of TBIs are categorized as mild (concussion), moderate and severe. The most common ways a person may get a TBI are from falls, motor vehicle crashes, firearm-related incidents and assaults.
TBI is a major cause of death and disability1
There were over 64,000 TBI-related deaths in the United States in 2020. That's roughly 176 TBI-related deaths every day. TBIs can affect the lives of people of all ages, races or demographics. Anyone can experience a TBI, but data suggest that some groups are at greater risk of dying from a TBI or experiencing long-term health problems after the injury. This could be due to a variety of factors, including access to care. Examples of groups who are more likely to be affected by TBI, include:
Racial and ethnic minorities
Service members and Veterans
People who experience homelessness
People who are in correctional and detention facilities
Survivors of intimate partner violence
People living in rural areas

A TBI during childhood may affect brain development3
Among all age groups, young children have one of the highest rates of Traumatic Brain Injury (TBI) related emergency department (ED) visits. TBI affects children differently than adults. An injury of any severity to the developing brain can disrupt a child's development, and may result in restrictions in school and participation in activities (e.g., sports, clubs, etc). As a result of TBI, children can experience changes in their health, thinking, and behavior that affect learning, self-regulation, and social participation, all of which are important in becoming a productive adult. Although most children recover well physically, they often experience changes in behavior and cognition that are not recognized immediately. Unlike other developmental health conditions in children that are diagnosed at birth, TBI is an acquired condition that can occur anytime during childhood with potential for a sudden alteration in development.
TBIs may be easily missed in older adults1

Older adults are more likely to be hospitalized and die from a TBI compared to all other age groups. Still, TBIs may be missed or misdiagnosed in older adults because symptoms of TBI overlap with other medical conditions that are common among older adults, such as dementia. Healthcare providers should check for signs and symptoms of TBI if an older adult has fallen or has a fall-related injury, such as a hip fracture or if they've been in a car crash. This is especially important among older adults who are taking blood thinning medications that may increase the risk for bleeding in the brain following a TBI.
A TBI may lead to long-term health problems1
Depending on the severity of the injury, those who get a TBI may face health problems that last a few days or the rest of their lives. For example, a person with a mild TBI or concussion may experience short-term symptoms and feel better within a couple of weeks or months. And a person with a moderate or severe TBI may have long-term or life-long effects from the injury. A person with a possible TBI should be seen by a healthcare provider as soon as possible. Most people with a mild TBI or concussion can recover safely at home following a medical check-up, while people with a moderate or severe TBI may need ongoing care to help with their recovery.
References
1) Center for Disease Control and Prevention, Traumatic Brain Injury and Concussion, Get the Facts about TBI: https://www.cdc.gov/traumaticbraininjury/get_the_facts.html
2) Center for Disease Control and Prevention, TBI Surveillance Report, https://www.cdc.gov/traumaticbraininjury/pdf/TBI-surveillance-report-2018-2019-508.pdf
3) Center for Disease Control and Prevention, Report to Congress on The Management of TBI in Children,https://www.cdc.gov/traumaticbraininjury/pubs/congress-childrentbi.html

To learn more about how Millar and Codman are helping to revolutionize TBI treatments, download our case study.