Why Choosing the Right Sensor Matters
Smarter medical devices are enabling physicians and healthcare workers to produce quantifiable data that leads to more supportive diagnoses and better data-driven treatments, thereby contributing to an overall improvement in patient quality of life. This transition is largely enabled by advances in sensor technology.

Millar's OEM partnership process is designed to uncover innovative ways to reduce risk, lower costs and reach patients faster – together. A key part of that OEM partnership is the selection of the device's sensor. When choosing the best sensor for your device, there is a myriad of questions to ask, including, "What's the difference between Absolute vs. Vented sensors?"
Absolute vs. Vented Sensors
There are two types of MEMS sensors that Millar offers: Vented (also commonly referred to as gauge) and Absolute.

Vented (or gauge) sensors (A) are open on the backside of the diaphragm and constantly reference atmospheric pressure. Vented sensors, therefore "self-correct" for changes in atmospheric pressure. Because vented sensors are "self-correcting", the interfacing electronics and analysis tend to be simpler than what's required for an absolute sensor. However, vented sensors require a continuous vent to atmospheric pressure, which can be a challenge in designs with limited space.
Absolute sensors (B) are sealed under the diaphragm and therefore provide a pressure reading relative to a constant baseline pressure. Because the backside of the diaphragm is always referencing a set pressure, readings from an absolute pressure sensor must be corrected for any changes in the atmospheric pressure. Absolute sensors, therefore, require a second barometric pressure sensor in the system, before they're able to provide pressure measurements. The barometric pressure sensor can often either be placed in the device itself or in the interfacing hardware.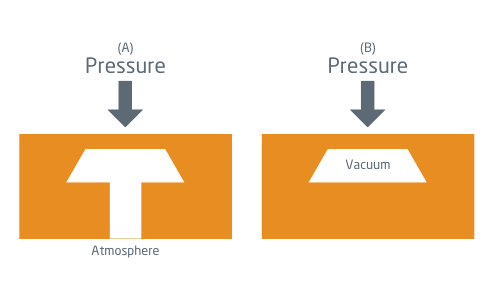 Each sensor has certain capabilities and limitations. To choose the best sensor for your device, one must consider a variety of factors, such as: Absolute vs. Vented, Sensor Sizing, Digital vs. Analog, and more.
To learn more about the sensor selection process, and to leverage Millar's 50 years of MEMS integration and catheter manufacturing expertise, consider downloading our "Guide to Sensor Selection" or reach out to a member of our OEM team today.
Download our free Guide to Sensor Selection.