Millar is honored to announce our CEO, Tim Daugherty, has received an award for one of the Top Healthcare CEOs of 2022. This list recognizes CEOs in the healthcare technology industry who have dedicated their careers to improving patient outcomes and society at large. Each CEO on this list comes from various backgrounds in medicine, research, biotechnology, business, and finance. But, what they all share is the dedication to drive their company to success. From inventing novel medical devices to developing disease diagnosing technologies, we would like to congratulate all the successful individuals who have made this list in 2022 and the years prior.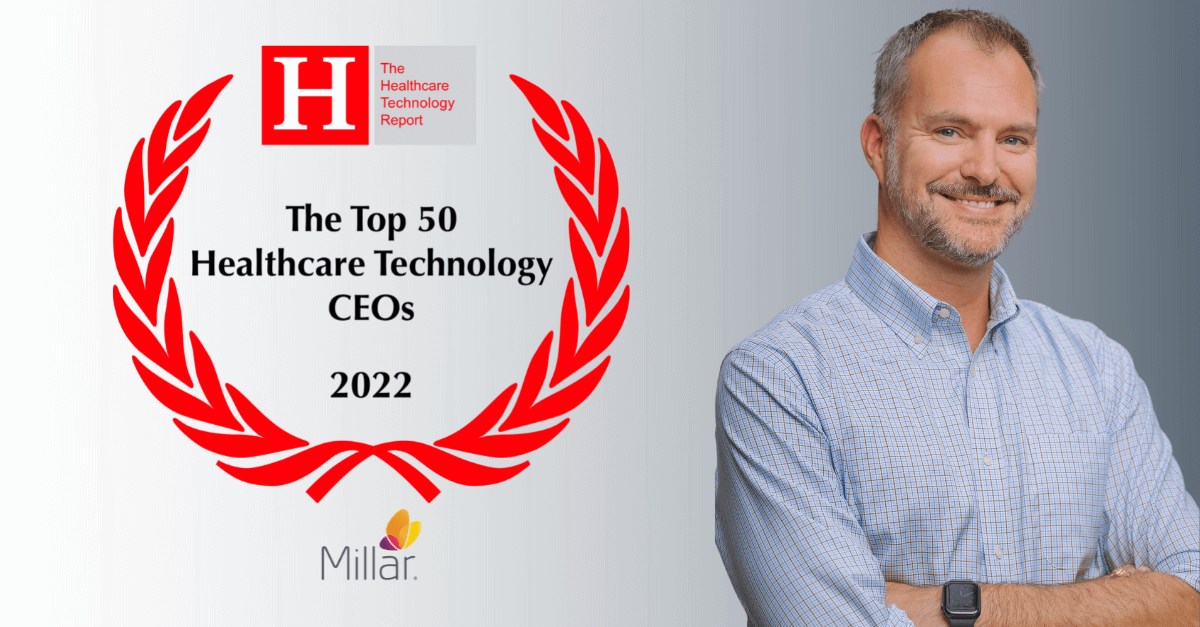 We sat down with our CEO to discuss his thoughts on his nomination:
What does receiving this award mean to you?
It's humbling, it is always an honor to be recognized with such an honor among your peers. However, so much of the recognition goes to the Millar team because at the end of the day I am judged by how well Millar performs against our core purpose and our goals as an organization. Achieving these goals year after year and staying focused on the sustainable growth of the Company is only made possible when every member of the Millar team leans in and works together.
How does winning this award impact Millar?
One of the biggest challenges leaders of relatively small, privately owned medical device companies face is, "How do we maximize our impact on the medical device community and patient care within the constraints of our business model and with the limited the capital we have at our disposal?"
For Millar, it's about awareness and doing everything we can to make sure the net we cast reaches as many people as possible who are working on bringing their next device project to market. We know that they might not need a pressure sensor today, but when they do, we want to make sure Millar is top of mind.
As a recipient of this award, I hope that it will drive new conversations and introduce me to other leaders in the industry so I can continue to make connections that open new doors for Millar and our team.
What is your greatest career accomplishment?
There have been many great milestones for me over the past 19 years at Millar. The rebranding of Millar in 2013 and the way we leveraged that to reintroduce the Company to KOLs in the Heart Failure and Pulmonary Hypertension space was a big one.
But ultimately, I think the accomplishment I am most proud of is the strategic pivot we initiated in 2018 to make OEM pressure sensor integration the top priority for the business.
Historically, Millar as a Company was used to chasing many projects that were spread across all aspects of our business. By re-organizing into a contract design and manufacturing operation centered solely around MEMS pressure sensor integration, we were able to create a laser focus within the organization. While this required us to retrain ourselves and create and embed new processes and capabilities, it ultimately created a clear understanding among the team and allowed us to quickly expand our customer pipeline.
This strategic shift also enabled us to put our new 56,000-square-foot facility into action. When completed in Q1 2023, it will triple our production capacity and will allow us to scale rapidly as projects continue to move through our development pipeline towards commercialization.
Tell us about a teacher/mentor who made an impact on you or set you on your present path.
My first boss at Millar was Steve Price. Steve was the ultimate sales warrior and a guy who could create a vision around a goal that would get everyone excited to go to work with him on making that vision a reality. At Millar, he was the Director of Sales & Marketing working alongside a bunch of very technical engineering types. Steve saw the potential of what Millar could be as a Company and he helped me see it through his own passion for the business. He taught me how to sell not only products, but ideas, and inspired me to expand Millar's impact as a small company in the wider medical device community.
What advice would you give to an incoming engineer looking to pursue a career in Medical Device Engineering?
I would tell them to stay open-minded and always be ready to upskill as unexpected career opportunities are likely to present themselves that will require learning something you never encountered in school. It's easy to get comfortable and stay within a narrow skillset, but if you want to grow, you must be prepared to stretch yourself.
Looking back at my career path, when I first entered the workforce with my Biomedical Engineering degree, I don't think I expected to ever have to learn about Marketing, Sales, or Finance, but now these are all areas I have been fortunate to get to spend time learning about.
So as an Engineer, never be afraid of educating yourself on the business aspect, because no matter what project you are working on, understanding the basic mechanics of a business will only help to make you a more valuable employee.