SPR-901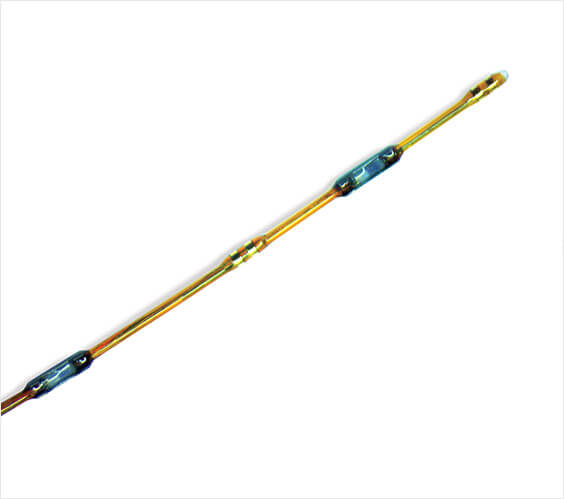 The SPR-901 dual pressure rat pressure-volume catheter provides a simultaneous measure of aortic pressure and left ventricular pressure and volume in rats via a single catheter placed via the carotid artery. Built to the highest quality standards, the catheter combines two proven Mikro-Tip® pressure sensors with four electrodes to collect real-time pressure-volume data.
The left ventricular pressure sensor is located between the four volume measurement electrodes at the tip of the catheter while the second aortic pressure sensor is located 12 mm from the LV sensor. This catheter is ideal for adding a measurement of total peripheral resistance to your PV loop studies
With a pressure sensor diameter of 2F and 1.1F along the catheter body, this model offers increased measurement capability in hemodynamic studies utilizing rats 350 g and larger. Like the SPR-838 pressure-volume catheter, the SPR-901 provides a 12.5 cm usable catheter length and a 9 mm electrode spacing for optimized ventricular volume measurement in standard-sized rats.
For complete hemodynamic analysis, use the SPR-901 mouse pressure-volume catheter with the MPVS Ultra® or MPVS Ultra® Single Segment system, a modular PowerLab data acquisition system with LabChart analysis software.
Product Specifications
Model

SPR-901

Product Number

840-8188

Subject

Rat

Length

15 cm

Tip F Size

2F

Body F Size

1.1F

Pressure Connector

Low Profile

Material

Polyimide

Tip

Straight

Number of Sensors

2

Sensor Spacing

12mm

Number of Electrodes

4

Electrode Spacing

9 mm
ADInstruments and Millar
Millar Mikro-Tip® Pressure and PV Loop catheters systems are available exclusively from ADInstruments, our strategic partner for over 15 years, because we share the same goals of providing quality products backed by world-class technical support and service.